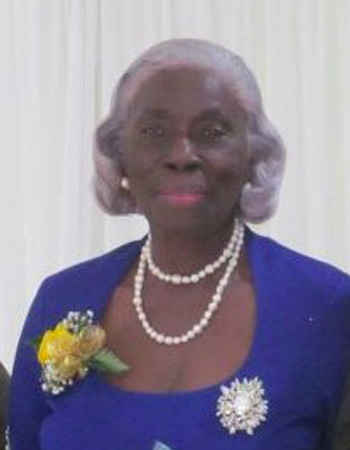 PACE Bahamas
Vylma Thompson-Curling
Advisory Board
Mrs. Vylma Thompson-Curling is an educator, administrator and community leader. She is one who has been involved over the years in numerous aspects of social and community service in the Bahamas. She is the Charter Vice President of the Zonta Club of Nassau and one of the founding members of both the AIDs Foundation and the PACE Foundation.
A charter member of the Zonta Club, Mrs. Curling took on an active role in the growth and development of the club. Over the years, she has served on several committees.
She has a special love for the PACE programme. She served as a counselor who met weekly with young ladies at Central Gospel Chapel where she and others provided Christian enrichment classes for these young women thus demonstrating her commitment to the goals of Zonta i.e improving the status of women and girls. She was a member of this committee which organized workshops, town meetings and other awareness programs – all aimed at reducing domestic and other abuses against women and girls.
Despite a demanding career – she found time to participate in other activities. She was
The first president of the UWI Alumni
The first president of Queens College PTA
Secretary to the Historical Society
Served for ten years on the St. Andrews Board
Served on the National Council for Older Persons
She was appointed a Justice of the Peace and lay magistrate in 1994 and awarded by Her Majesty the Queen as an Officer of the British Empire (OBE) in 1998.
She is the fourth child and only daughter of veteran educators Joseph Hunt and Minerva Major. She is a graduate of the first Teachers Training College. Mrs. Thompson-Curling taught in the public school system for twenty-five years rising to the rank of vice principal before transferring to administrator. She served in education for several years in planning. She was promoted to Permanent Secretary in 1980.
In transport, she was instrumental in the implementation of several progressive measures such as shop registration acceleration of the cruise ship activity. She served in the Ministry of Housing and National Insurance where she witnessed the construction of houses for low-income citizens in the Elizabeth Estates and Flamingo Gardens communities.
A mother of four (one deceased), grandmother, proud great grandmother and ardent Christian and founding member of Believers Gospel Chapel where she serves as a choir member, Sunday school/youth counselor.
She enjoys traveling and has traveled to all of the world's continents. Her life quote is "God has been my strength, my rock, my deliverer and my strong hold. I depend on him."